Oswaldpeetersite RC5166
Contributors: ---
Copyright: RBINS / DIGIT-3 Belspo Licence: CC BY NC ND
Copyright: RBINS / DIGIT-3 Belspo Licence: CC BY NC ND
Name: Oswaldpeetersite

Location: Jomac Uranium Mine, San Juan County, Utah, U.S.A

Name Reference: The mineral name honors Maurice Oswald Peeters (b. 1945), structural crystallographer at the University of Leuven, Belgium, and researcher in the field of uranium mineralogy. 
Chemical Formula: (UO2)2(CO3)(OH)2 · 4H2O

Crystal System and Class: Monoclinic - Prismatic, uranyl carbonate 

Accompanying Minerals:
Origin (Determinator + Year): Haynes P. 1999
Publication: Oswaldpeetersite, (UO2)2CO3(OH)2-4H2O, a new basic uranyl carbonate mineral from the Jomac Uranium Mine, San Juan County, Utah, U.S.A.
Renaud Vochten, Michiel Deliens, Olaf Medenbach. The Canadian Mineralogist. Vol. 39, pp. 1685-1689. 2001
Contributors: Picture: Eddy Van Der Meersche, 2016
Copyright: RBINS / DIGIT-3 Belspo Licence: CC BY NC ND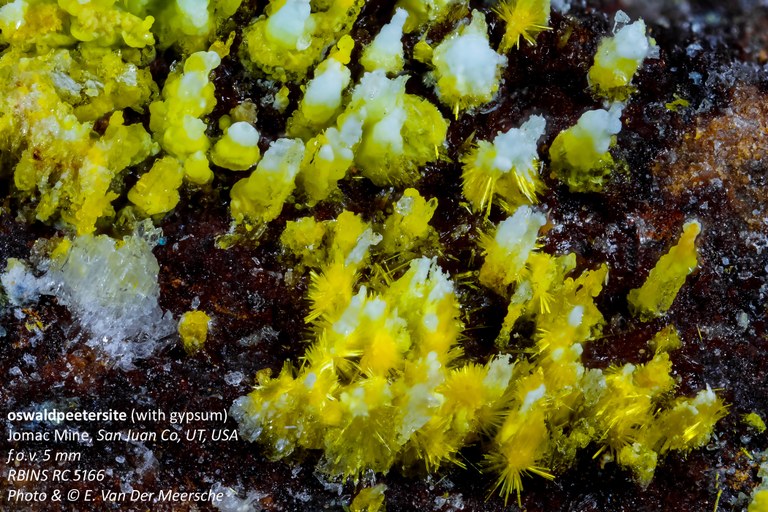 Contributors: images: Van de gehuchte Erik
RBINS / DIGIT-4 Belspo Licence: CC BY NC ND