Bustylus marandati (Crochet & Sigé, 1983)
IRSNB M 1979; Paleocene; Hainin; Belgium.
IRSNB M 1979 (=N1-35)

IG: 30562       Reg.: -

Age: Early Palaeocene.
Locality: Hainin, Mons Basin, Belgium.
Description: Right astragalus
UUID Number: https://darwin.naturalsciences.be/darwin/search/view/uuid/5216a5e6-89c6-496d-b0ca-d2a6df94dd40
Publication
-Smith, T., Sigé, B. and De Bast, E. 2010. Euarchontan affinity for the Palaeocene Afro-European adapisoriculid mammals and their origin in the late Cretaceous Deccan Traps of India. Naturwissenschaften 97:417-422.
-De Bast E. & Smith T., 2017. The oldest Cenozoic reference mammal fauna of Europe: implication of the early Palaeocene Hainin fauna (Belgium) in mammalian evolution and dispersals during the Palaeocene. Journal of Systematic Paleontology T. 15(9), pp.741-758.
Source 3D :
Right astragalus, dorsal view. Eric De Bast requested the picture, Julien Cillis made the picture in 2008. Specimen illustrated in Smith et al., 2010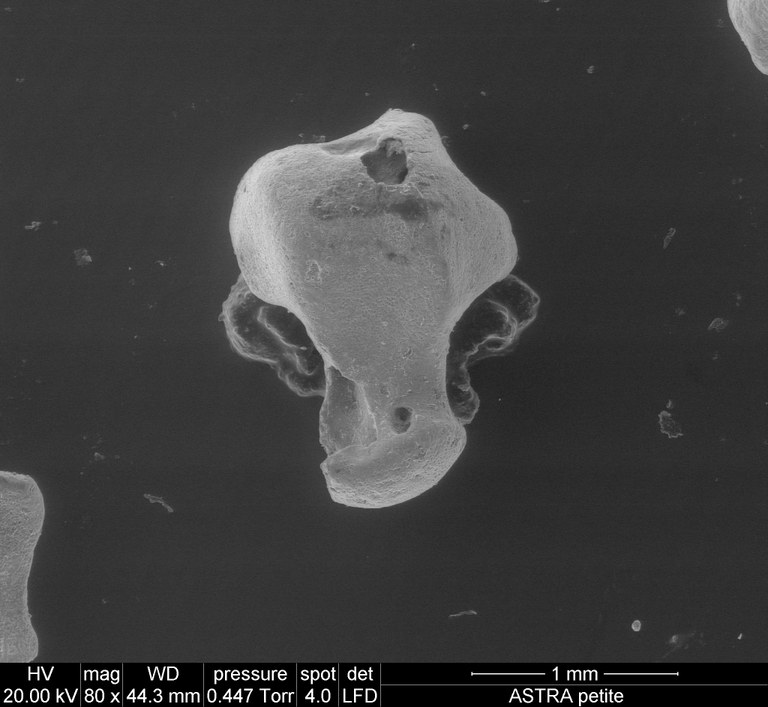 Right astragalus, plantar view. Eric De Bast requested the picture, Julien Cillis made the picture in 2008. Specimen illustrated in Smith et al., 2010